FLOW
The Flow rug is designed by Rakel Villesen, who wanted to create a design that had movement and life. Through the beautiful and simple coloured lines, Rakel has managed to create a lightness in the design that plays with the idea of movement while also adding a modern touch to a room with its warm colours and dark contrasts. The colours have been carefully selected based on a dual desire to create contrasts and add colour to the Scandinavian home. And the colour composition has also been carefully selected to complement the light oak in Andersen Furniture's existing furniture range.
The navy blues are calming the eye, while the bright, warm colours in the line break up the dark background and spark the imagination. The soft surface and high pile make it homely and comfortable to step on. This was important to Designer Rakel Villesen, as it gives the room a unique touch and gives you the opportunity to use the rug to create a personal style.
The Flow rug is also designed to be used for several different functions in the living room, such as under the dining table, by your sofa or lounge area. FLOW is made from an exclusive blend of 80% wool and 20% polyamide. The strong composition of wool and polyamide is extremely durable and makes it highly usable in a variety of spaces, including for commercial use, and easy to clean daily.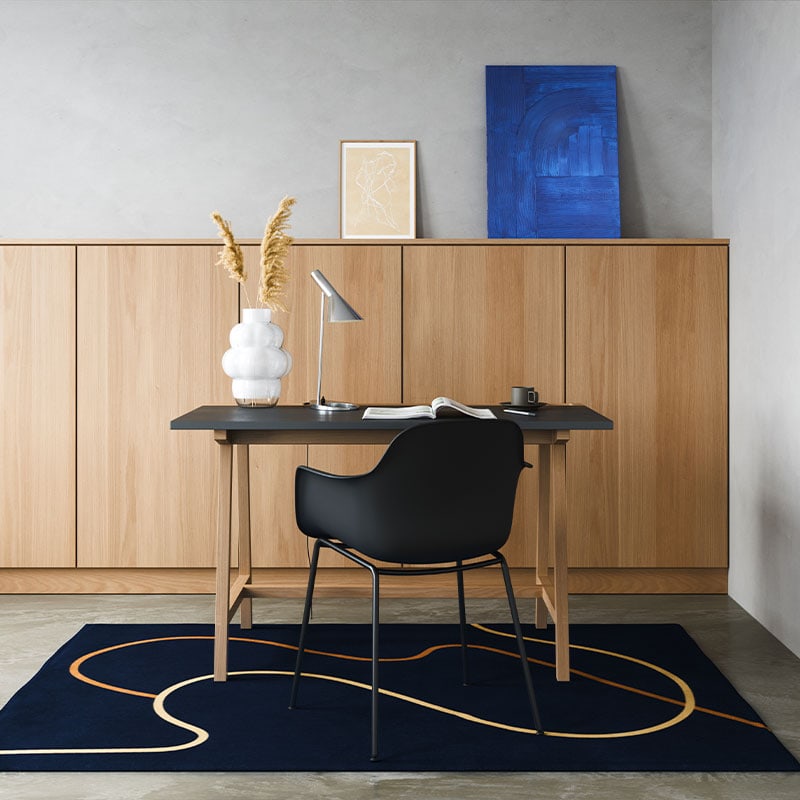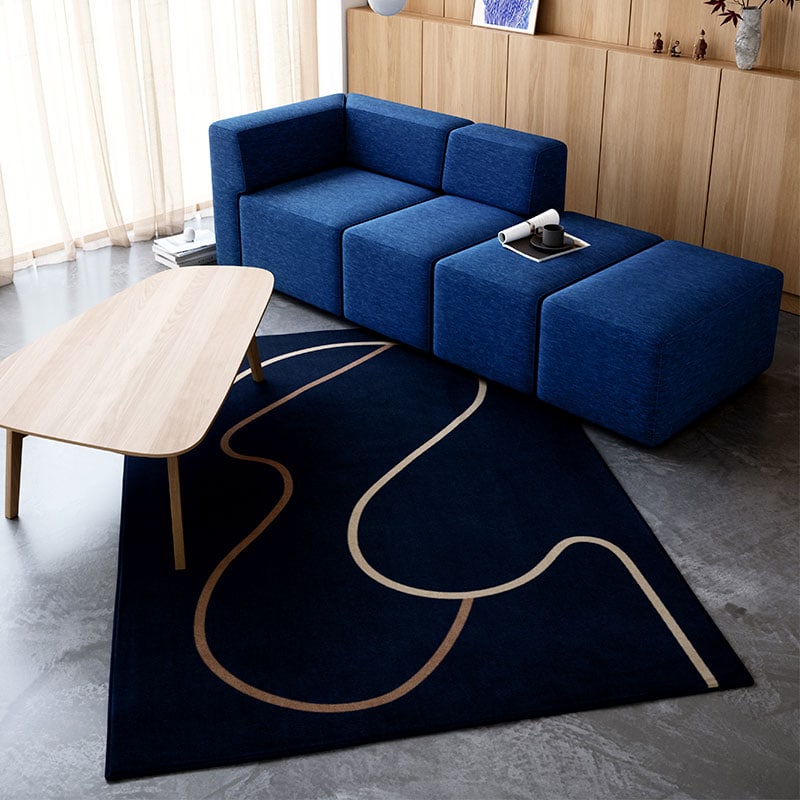 Materials and surfaces
Sizes
Downloads
Sizes
140 × 200 × H cm
165 × 235 × H cm
200 × 300 × H cm
Downloads
Mappen kunne ikke hentes. Prøv igen senere.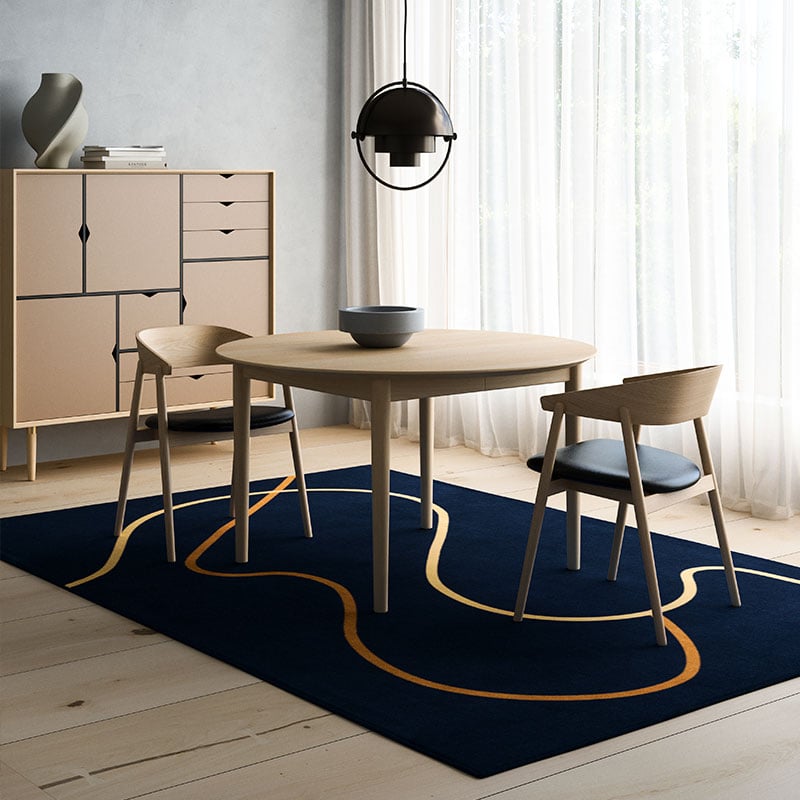 From used water bottles to beautiful rugs
At Andersen Furniture, we are aware of our responsibility towards the environment and so naturally we look at how we can contribute to leaving a smaller footprint.
With the FLOW rug, sustainability and recycled materials have been factored in from the start. The rug is made from various recycled materials, such as water bottles, which are part of the specially developed felt material that is placed under the rug.
The specially developed felt material consists of approx. 18 bottles per m2 and the used bottles now get a new and valuable life in a modern interior design.
FLOW is made in collaboration with EGE CARPETS, which produces the rugs in Denmark. This allows us to reduce transport, and the rugs therefore travel the shortest distances possible and burden the environment as little as possible.
High quality wool from New Zealand
The wool in FLOW comes from New Zealand sheep. Their wool is known to be one of the best and finest qualities in the whole world. New Zealand wool is spun and put together in a way that makes the rug itself more durable and resistant so that it can last for several generations.
At Andersen Furniture, we not only pay attention to where the materials come from, but also whether the conditions in which they originate are acceptable. As such, the welfare of the sheep and how the wool is produced matter a great deal. Through our collaboration with EGE CARPETS and their animal welfare policy, we have secured a high-quality wool that is completely free of mulesing from sheep that are guaranteed to have food, drink, and space to create the best and most attractive wool for rug production.
Wool is a natural material that has many functions for an improved indoor climate. The wool's natural materials can both help clean the air and absorb unpleasant smells such as smoke. The soft composition of FLOW helps make it a soft rug with a high pile, which can also absorb sound and help create better acoustics in the room.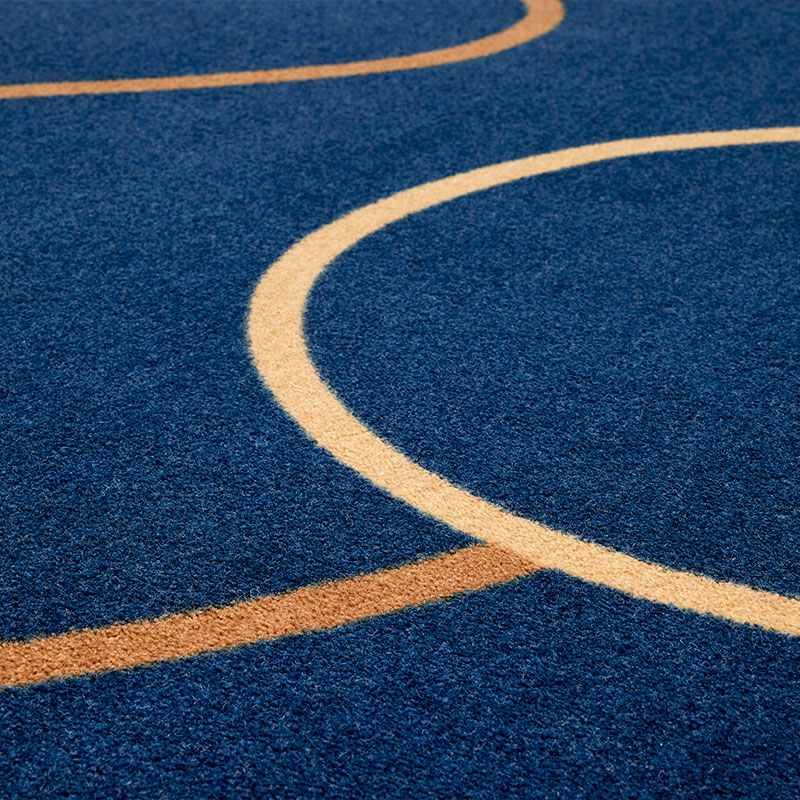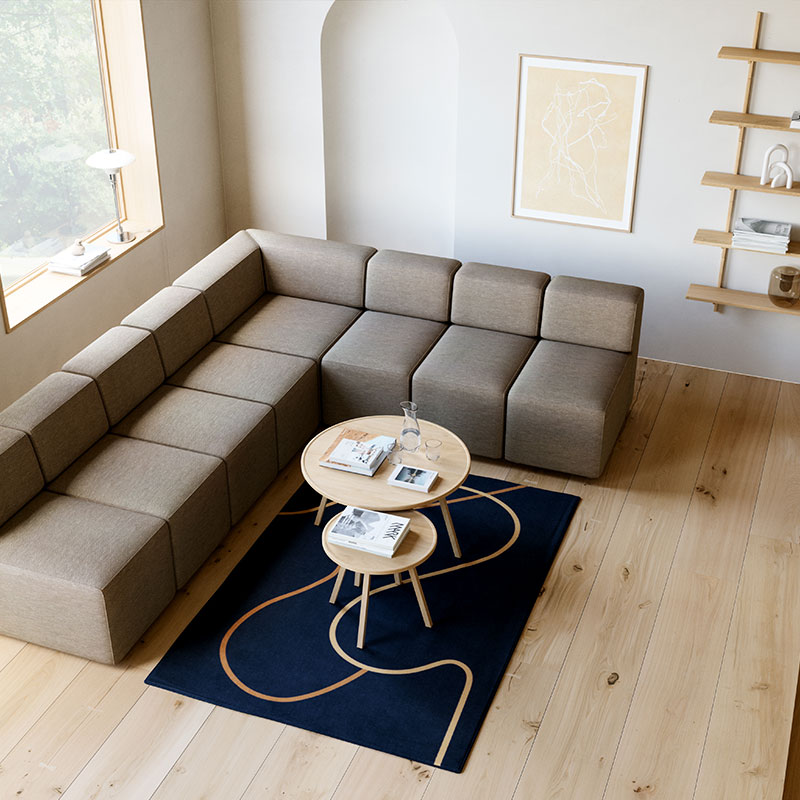 Cradle to Cradle
Flow, like the rest of Ege Tæpper's range, is bronze Cradle to Cradle Certified®. In fact, Ege Tæpper is the only rug manufacturer in the world with a 100% Cradle to Cradle Certified® range.
Cradle to Cradle is a "cradle to grave" mindset, where the rule of thumb is that the product must not burden our resources. With this product certificate, the utmost is done to keep valuable materials in circulation, cut down on waste and harmful substances, take better care of our scarce resources, preserve groundwater, reduce CO2 emissions and ensure social justice in our operations and value chain.