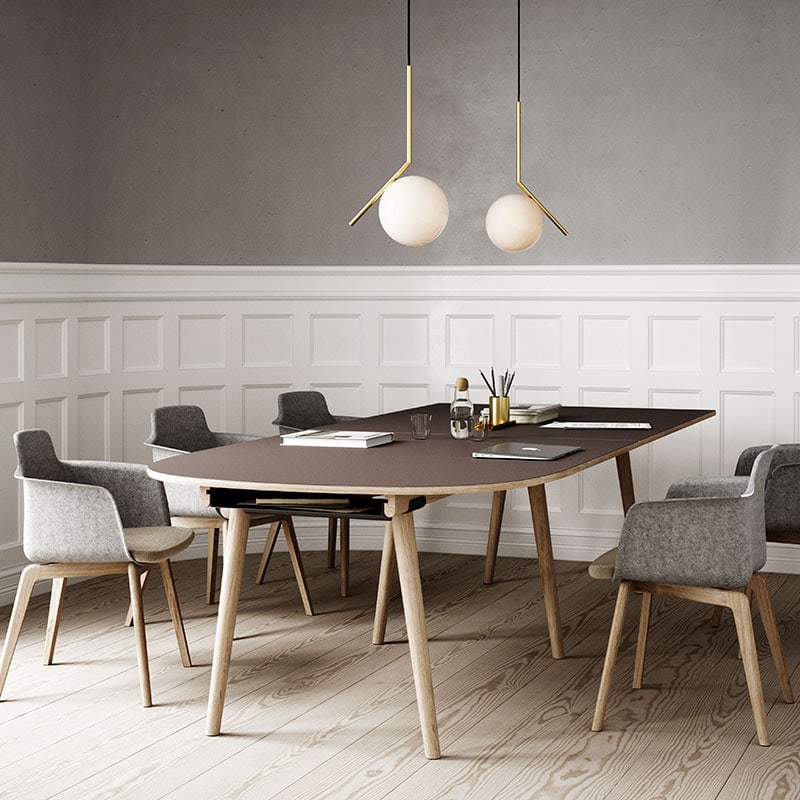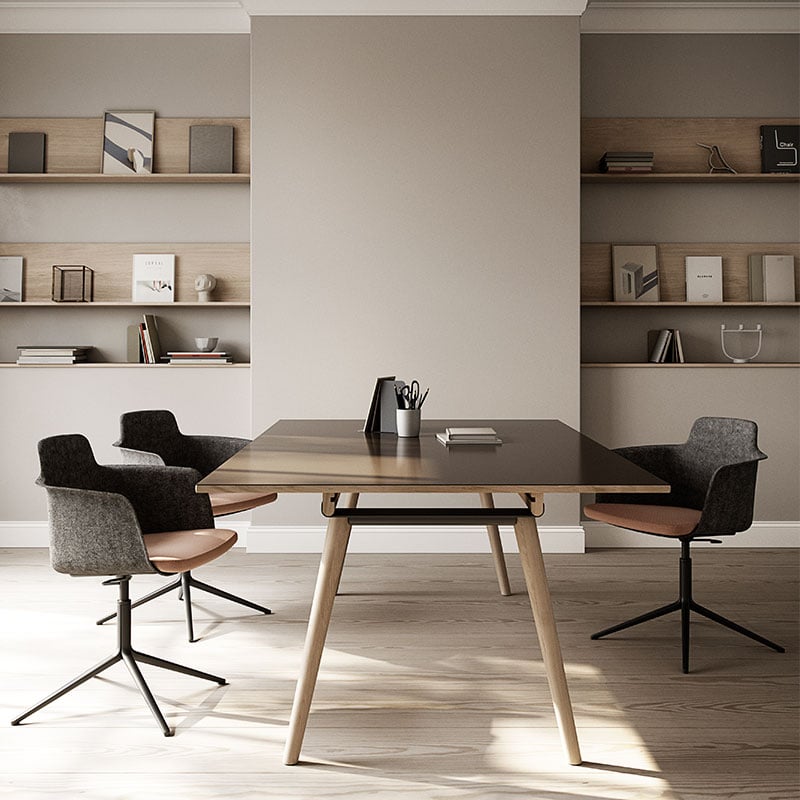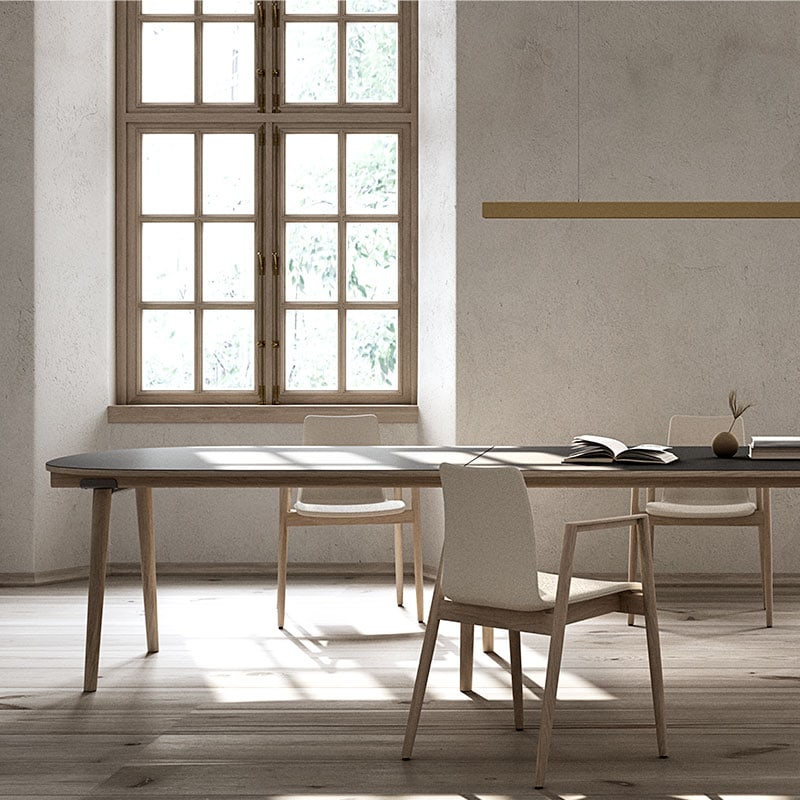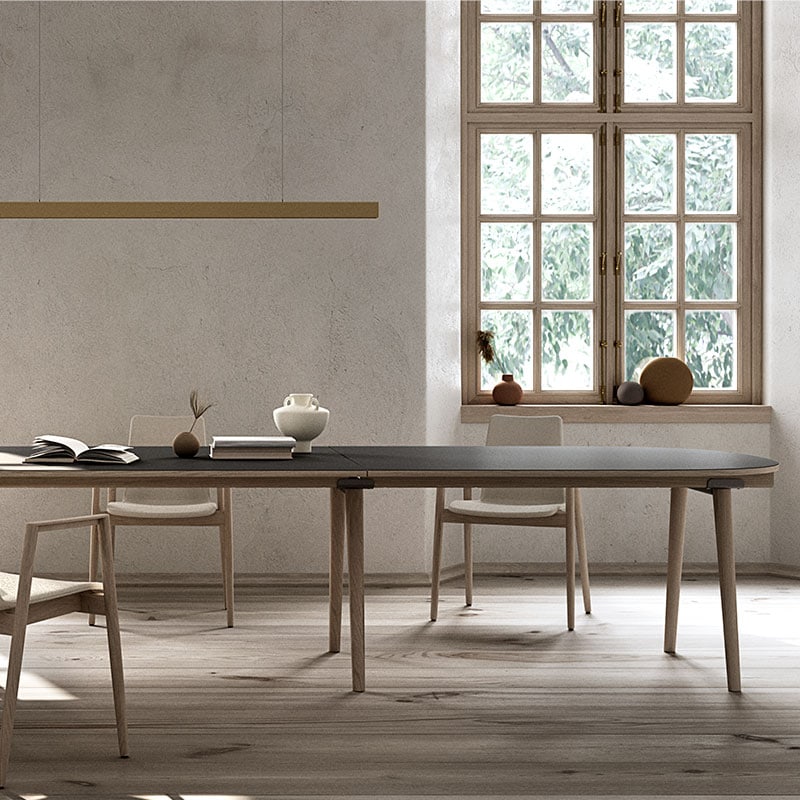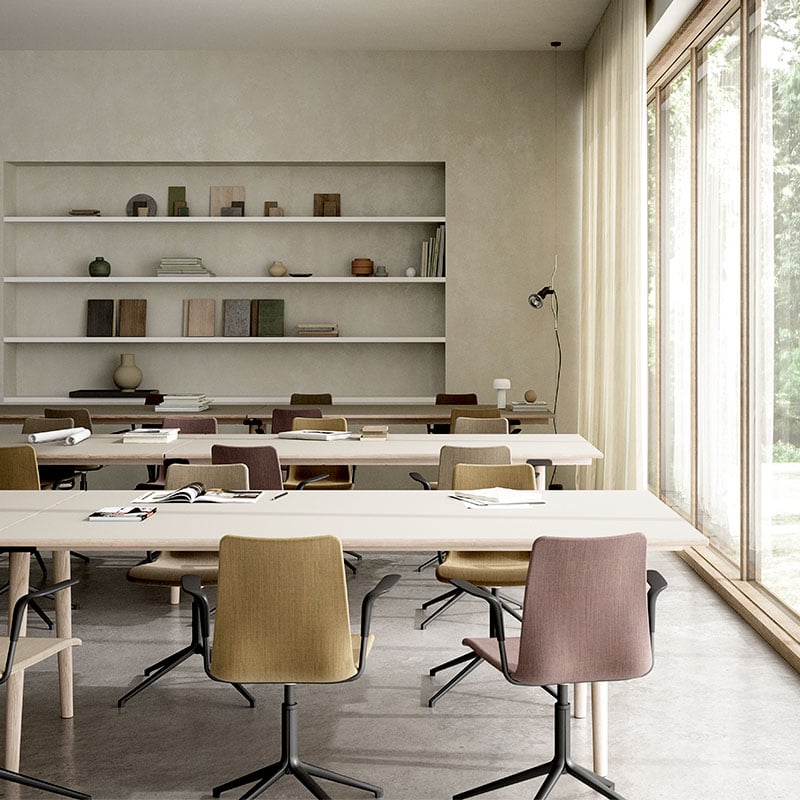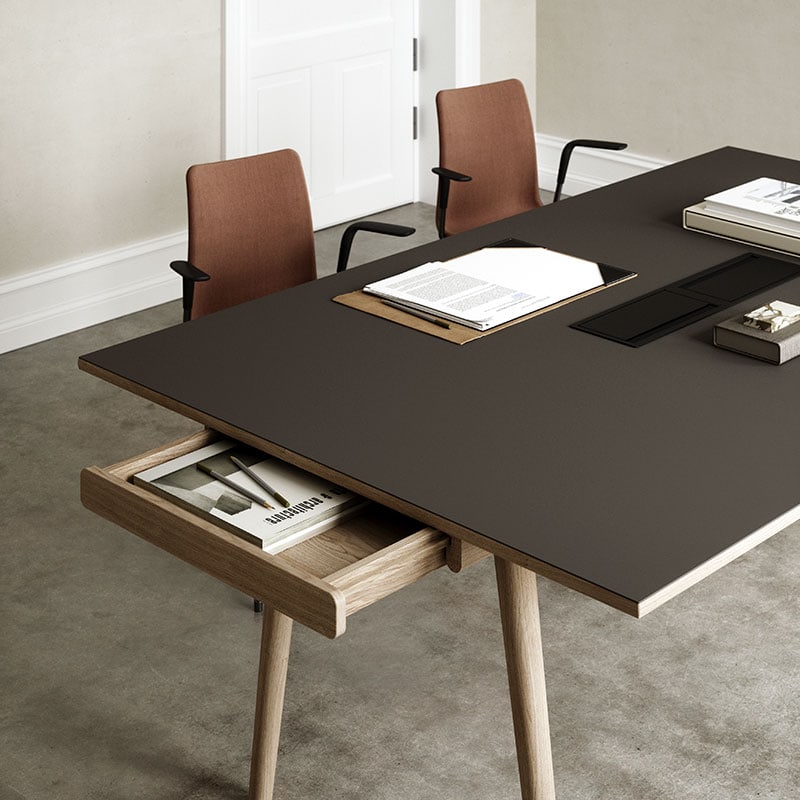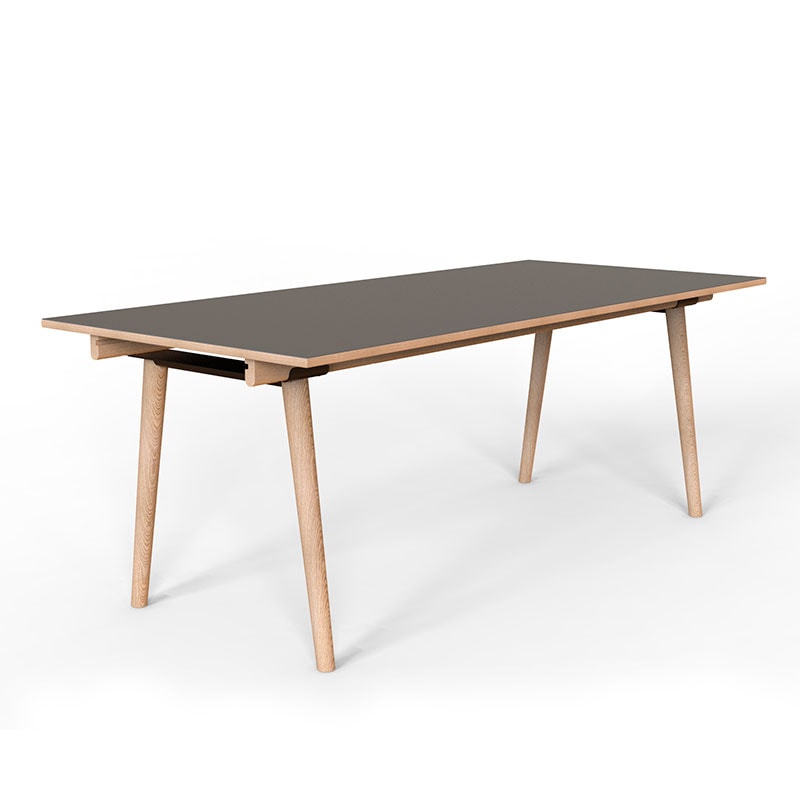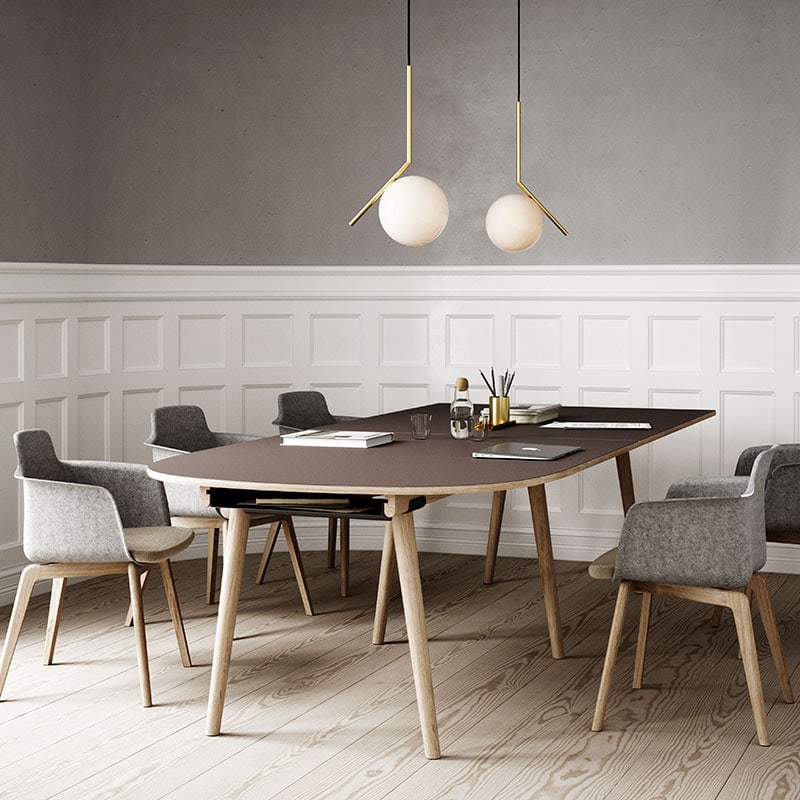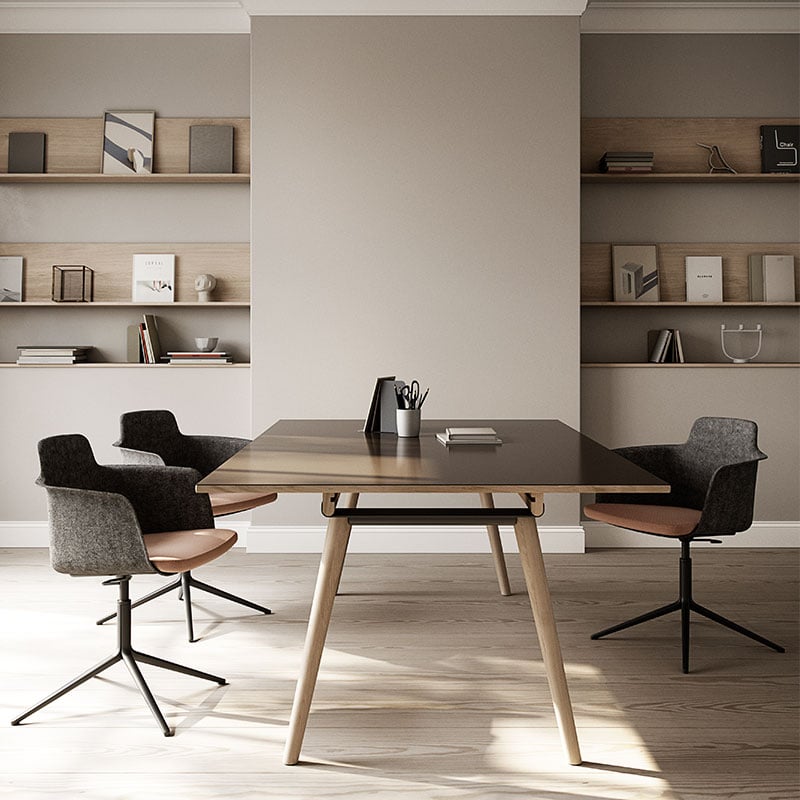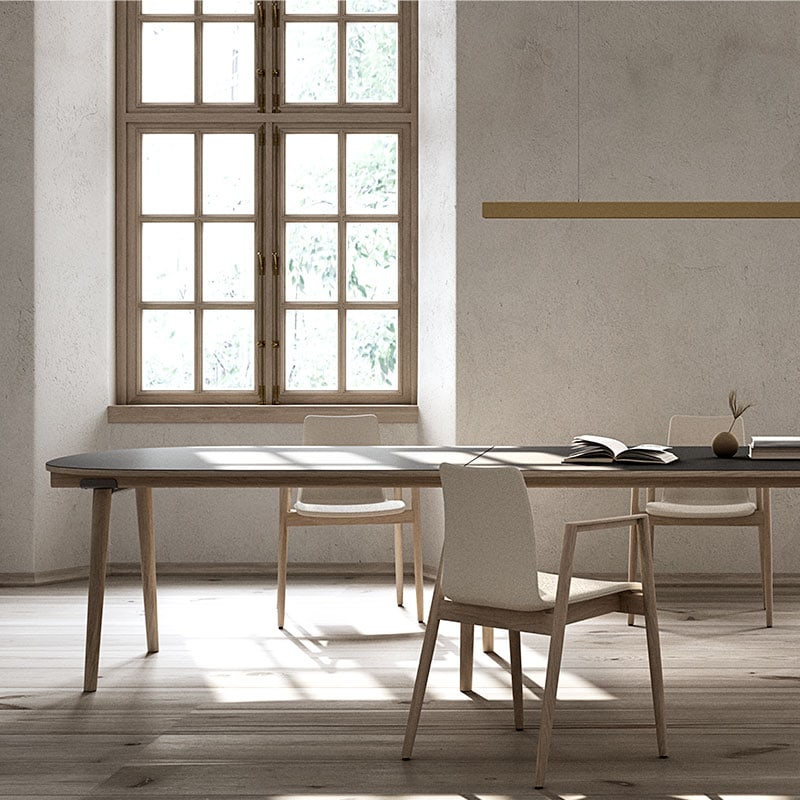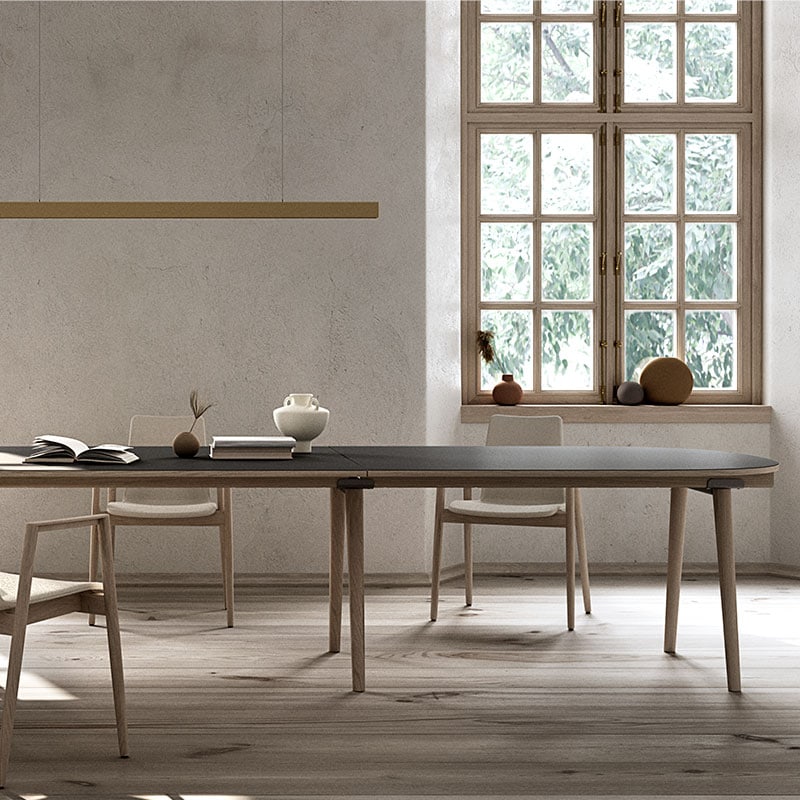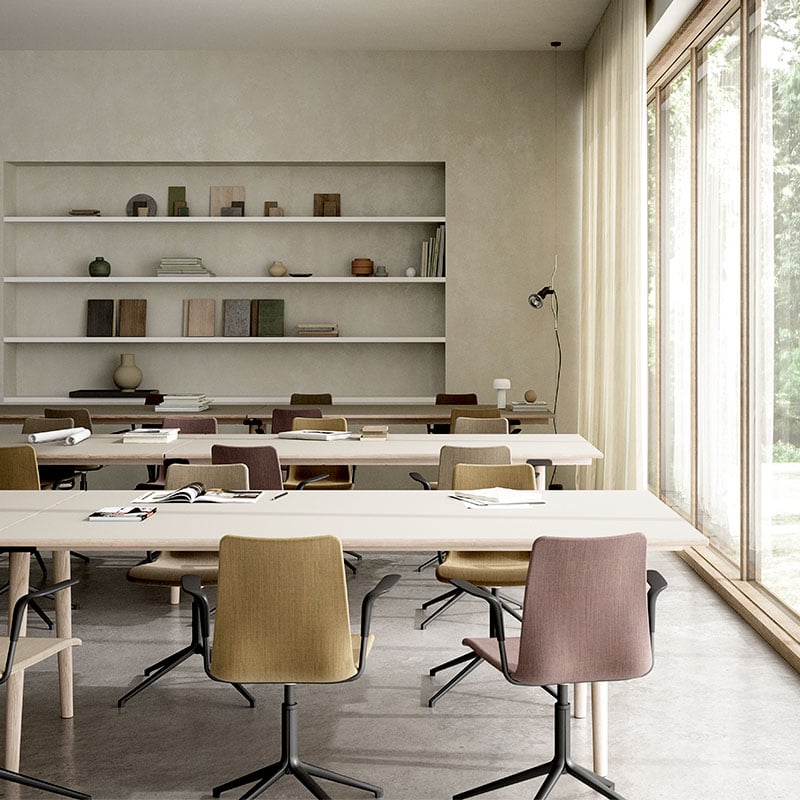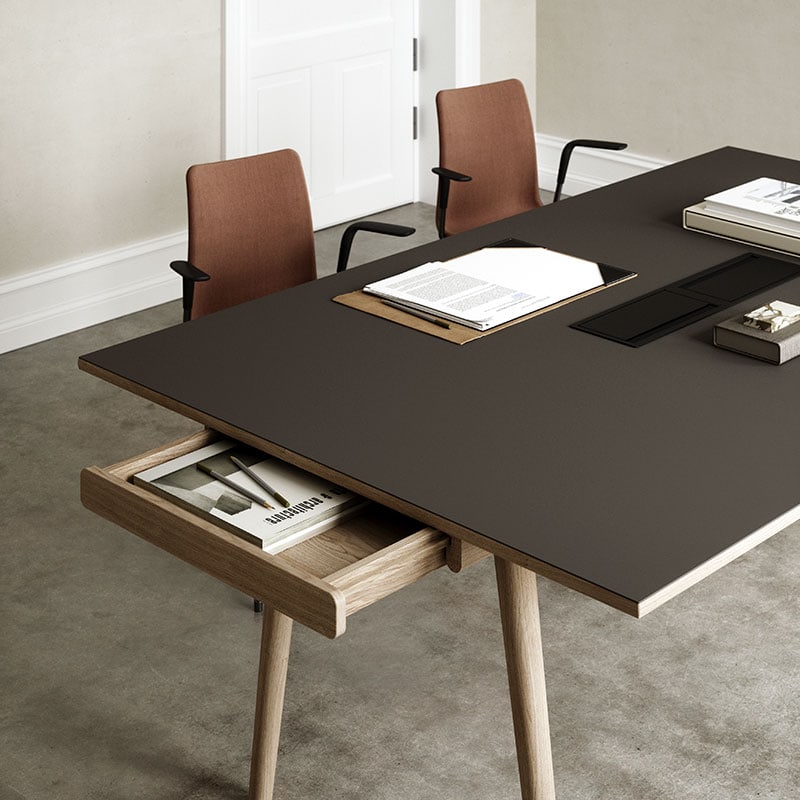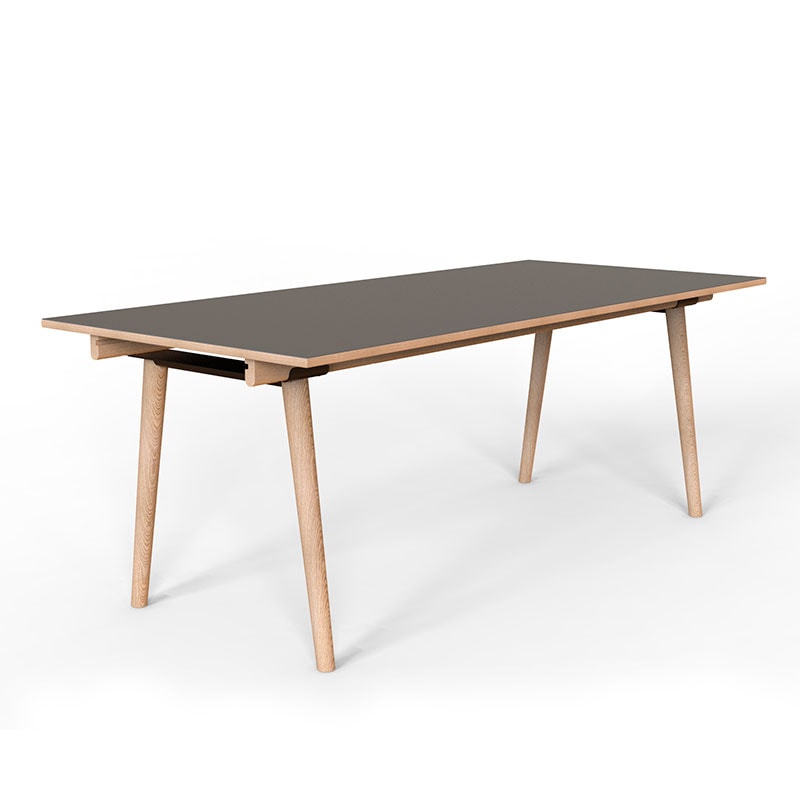 Flexible and multifunctional table made of FSC® certified wood
Designed by Hans Thyge & Co, Link is a flexible and multifunctional table collection. Its composed of a large series of modules which gives you the freedom to customize and create your conference table or workstation your way. Link has an airy and elegant expression, which is emphasized by the simple leg construction that visually causes the linoleum tabletop to hover over the slightly sloped legs.
The solid wood base adds warmth and beauty to the room and contributes to a comfortable working environment. The rails of the base allow you to combine different sizes, and at each table end you can add accessories such as drawers, standing desks or metal trays. Integrated cable management is also available.
Materials
Sizes
Downloads
L 140 × W 90 × H 73,5 cm - 2 pair of legs
L 200 × W 90 × H 73,5 cm - 2 pair of legs
L 280 × W 90 × H 73,5 cm - 3 pair of legs, table top in 2 parts (2 x 140cm)
L 340 × W 90 × H 73,5 cm - 3 pair of legs, table top in 2 parts (140 + 200cm)
L 400 × W 90 × H 73,5 cm - 3 pair of legs, table top in 2 parts (2 x 200cm)
L 70 × W 120 × H 73,5 cm - No legs
L 140 × W 120 × H 73,5 cm - 2 pair of legs
L 145 × W 120 × H 73,5 cm - 2 pair of legs, organic corners
L 200 × W 120 × H 73,5 cm - 2 pair of legs
L 280 × W 120 × H 73,5 cm - 3 pair of legs, table top in 2 parts (2 x 140cm)
L 285 × W 120 × H 73,5 cm - 3 pair of legs, table top in 2 parts (140+145cm), round corners
L 290 × W 120 × H 73,5 cm - 3 pair of legs, table top in 2 parts (2 x 145cm), round corners
L 340 × W 120 × H 73,5 cm - 3 pair of legs, table top in 2 parts (140 + 200cm)
L 350 × W 120 × H 73,5 cm - 4 pair of legs, table top in 3 parts (140 + 70+140cm)
L 360 × W 120 × H 73,5 cm - 4 pair of legs, table top in 3 parts (145+70+145cm), round corners
L 400 × W 120 × H 73,5 cm - 3 pair of legs, table top in 2 parts (2 x 200cm)
L 480 × W 120 × H 73,5 cm - 4 pair of legs, table top in 3 parts (140 + 200 + 140cm)
L 490 × W 120 × H 73,5 cm - 4 pair of legs, table top in 3 parts (140 + 200 + 140cm), round corners
L 570 × W 120 × H 73,5 cm - 5 pair of legs, table top in 4 parts (145 + 2x140 + 145cm)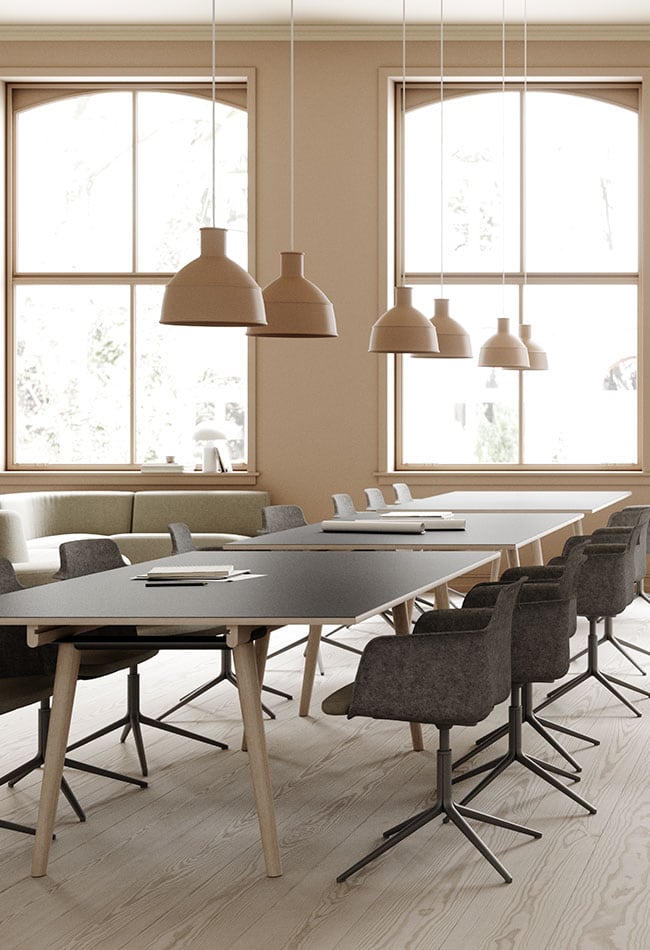 Product highlights:
• Large range of modules
• User-friendly linking system
• Solid wooden beam and legs
• Linoleum table top in various colors
• Knock down construction / flat packed
• Available as bar and Ø120
• Movable and flexible leg construction
• All wooden parts is available in to colours
• Integrated cable management is possible
• Accessories: Solid oak drawer, metal tray, standing desk